Text Prompts
"Colourful Lovecraftian eldritch horror monsters, Cthulu, Azathoth, Kassogtha, Shoggoth, Nyarlathotep, trapped in glass jars, pickled octopus tentacles, fish, raw red meat, by H.P. Lovecraft, Zdzisław Beksiński, and Brad Rigney"
Weight:1
"tremendous strength, a big pile of tentacles and tendrils, grotesque blobs covered in dozens of eyes, at the center of the universe in space, by Gustave Dore and H.P. Lovecraft, Anton Semenov, Antonio José Manzanedo, and Cryptcrawler"
Weight:0.8
"Colorful psychedelic kaleidoscope multicolored iridescent LSD DMT hallucinations holographic fantasy astral projection chromatic cosmic ethereal space rainbow nebula galaxy opalescent polychromatic divine being by Pablo Amaringo watercolor"
Weight:0.2
"16K Resolution, Behance HD, shadows, beautifully lit masterpiece, detailed image, rendered with Horde3D and Octane Render, caustics, particles, x-particle, Hyperrealistic oil painting by Dan Witz and James Gurney,"
Weight:0.5
"Victorian eldritch spirits emanate from glass jars inside an old fashioned sweet shop, Ink, by Junji Ito and Shawn Coss, vector linework drawn in Adobe Illustrator"
Weight:0.7
"blurry, undeveloped, too sharp, oversharpened, too dark, underexposed, faces, people, person, man, skin, hair, eyes, figure, human, face, person, people, woman, scratches, paint flecks, noisy, dirty, unclear, watermark, text, bokeh, blur"
Weight:-1
Model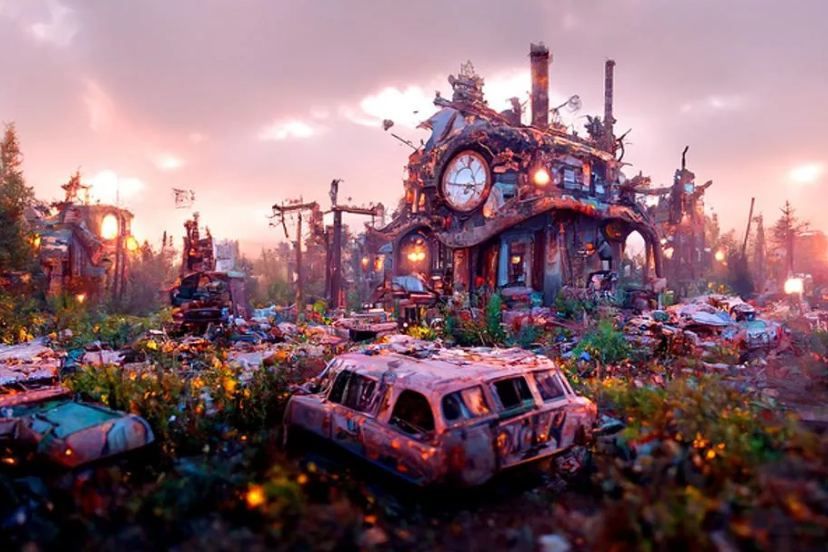 CKPT
Initial Resolution
Medium
Runtime
Short
Overall Prompt Weight
50%
Start Image Weight
50%
Noise Weight
50%
Accuracy boost
Standard