Text Prompts
"the world tree Yggdrasil tall above the clouds with the moon in the background, 8k resolution, highly detailed, 4d render, By Caspar David Friedrich, Beeple, Erik Johansson, Antoni Gaudi, Edwin Deakin, 16K resolution, 8k resolution. Detailed landscape painting by Kandinsky, DeviantArt"
Weight:1
"Massive epic tree tall above the clouds in the moonlight, hyperdetailed, hyperrealism, cinematic, filmic; epic in scope and scale"
Weight:0.9
"A beautiful hyperdetailed painting of the world tree piercing the clouds. Maximalist. Gaïa; brightly illuminated; Lush nature color scheme. 8K 3D, 8k resolution, DSLR, Flickr, matte painting, Terragen"
Weight:0.6
"blur, blurry, bokeh, dirty, eyes, face, figure, hair, human, man, noisy, oversharpened, paint flecks, people, person, scratches, skin, text, too dark, too sharp, unclear, underexposed, undeveloped, watermark, woman,"
Weight:-1
"cluttered, messy, face, man, people, bokeh, scratches, paint flecks, noisy, dirty, unclear, Watermark, text, blurry, blur, noise, undeveloped, paint flecks, too sharp, underexposed"
Weight:-1
"Beeple, Hugo Pratt, Moebius, Brian Kesinger, Pino Daeni, Victo Ngai, Hokusai, Kilian Eng, James Jean and Steven Belledin"
Weight:0.5
"Unclear, noisy, dirty, watermark, low resolution, fuzzy, grainy, ugly, imbalanced, overworked, undeveloped, scratches, dingy, overexposed, messy"
Weight:-1
Model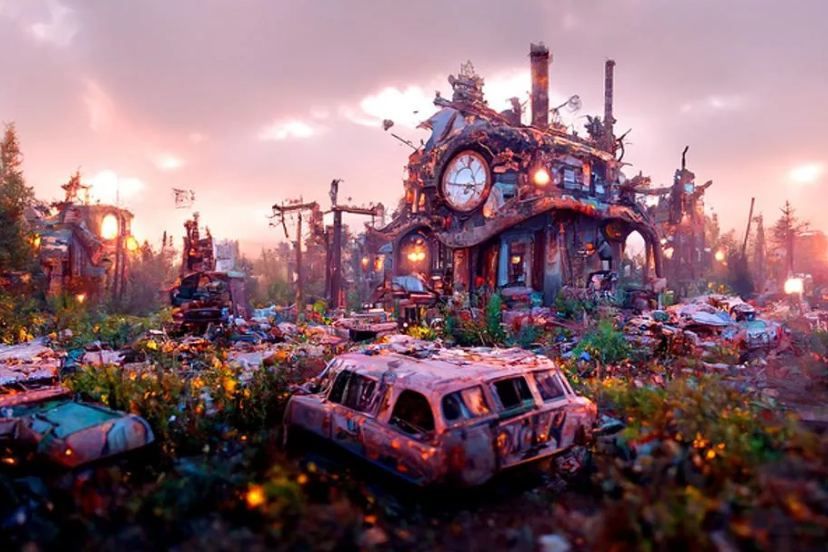 CKPT
Initial Resolution
Medium
Runtime
Long
Overall Prompt Weight
80%
Start Image Weight
80%
Noise Weight
20%
Accuracy boost
Standard