Text Prompts
"Far away This ship is taking me far away Far away from the memories Of the people who care if I live or die"
Weight:1
"Starlight I will be chasing a starlight Until the end of my life I don't know if it's worth it anymore"
Weight:1
"Hold you in my arms I just wanted to hold You in my arms"
Weight:1
"My life You electrify my life Let's conspire to ignite All the souls that would die just to feel alive"
Weight:1
"I'll never let you go If you promise not to fade away Never fade away"
Weight:1
"Our hopes and expectations Black holes and revelations Our hopes and expectations Black holes and revelations"
Weight:1
"etherreal, imposing, mysterious, graceful, sublime, imposing, stunning, magnificent, fiery, golden, crimson, benevolent, eternal, vivid, warm, flaming, autumnal, quaint, solemn, prolonged, glowing, romantic, love"
Weight:0.7
"by Benoit B Mandelbrot, Greg Rutkowski, and Peter Gric. Rendered in ZBrush, Enscape, Solidworks Visualize, and CryEngine. Trending on ArtStation HD, DeviantArt, Behance HD. 8K resolution, 4KUHDTV, soft shaded in cycles, unreal engine 5, octane render"
Weight:0.7
"Hyper detailed digital matte painting, beautiful landscape concept art, hyperrealism, 16k resolution, Cinema 4D, 8k resolution, behance HD, masterpiece, rendered in cycles"
Weight:0.5
"landscape vista photography by Carr Clifton & Galen Rowell, 16K resolution, Landscape veduta photo by Dustin Lefevre, 8k resolution, detailed landscape painting by Peter Gric, DeviantArt, Flickr, rendered in Enscape by Max Rive"
Weight:0.9
"obstruction, oversharpened, paint flecks, pixelated, scratches, scratchy, signature, sloppy, smudged, sphere, static, text, title, uncanny, unclear, underexposed, undeveloped, unsaturated, untidy, vague, watermark, words, writing"
Weight:-1
"ambiguous, balls, blown contrast, bokeh, blur, blurry, border, bubbles, caption, dirty, disordered, empty, filthy, flat, frame, fuzzy, glare, header, heading, headline, language, letters, logos, messy, nasty, noisy"
Weight:-1
Model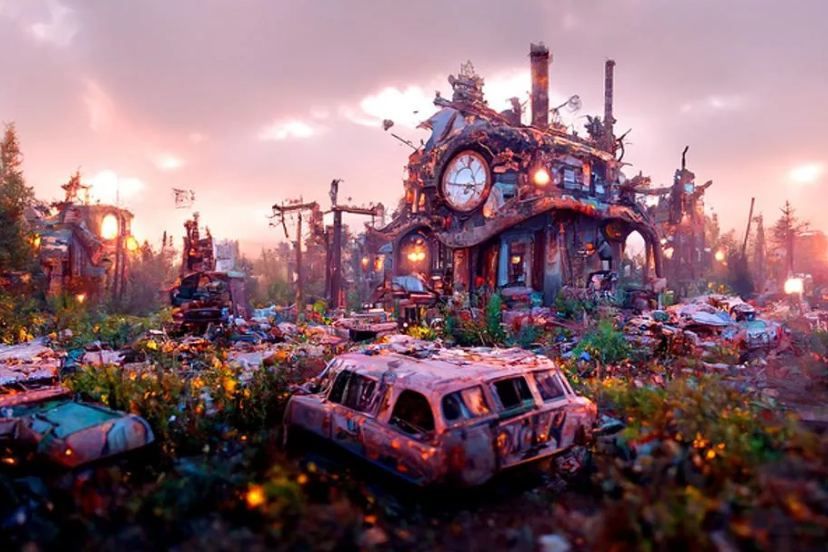 CKPT
Initial Resolution
Medium
Runtime
Medium
Overall Prompt Weight
100%
Start Image Weight
50%
Noise Weight
50%
Accuracy boost
None